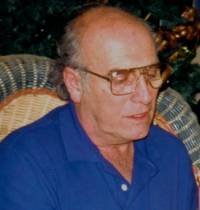 Welcome To My Home Page
A retired Bricklayer/Stonemason, I began trying to paint only a few years ago. Having had no formal art education I was moved to give painting a try after watching Bob Ross on TV. Bob made it look extremely easy, so I followed his example by beginning with oils, and while having no pretentions to being a budding Leonardo, have derived much enjoyment from my efforts. Living for the past 30+ years in the Yukon Territory, in the extreme northwest of Canada, I painted what I see here, mountains and lakes, and trees, lots of trees, they're small but they're there. Now (August 2002) we have moved to Vernon, BC, and have a very different type of scenery to admire, and maybe paint.

I was fortunate to meet on the internet a wonderful lady, Calli Soules, to whom I will be eternally grateful for her advice, encouragement, and a total lack of negative criticism for my very amateurish attempts. Also my thanks go out to all the other artists I met and became friends with on those painting chat sessions.
And so onward
Please feel free to wander through my site and view the photos of my paintings displayed here. I will change the paintings displayed from time to time, so come back occasionally and see a new selection.

While you are here take the time to glance at the pages containing my inspiration and background, which may give you a better understanding of who I am.

Once again I find some nice person has left unwanted links on my guest page so I have had to delete the page. Feel free to email me at bewarner@shaw.ca with any comments.

Thankyou for visiting.